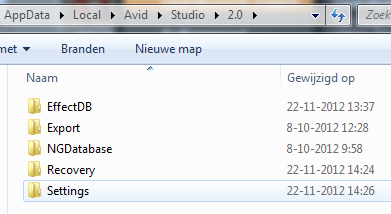 Als Pinnacle Studio al is geïnstalleerd en je ondervindt problemen, dan is er een optie om het programma te resetten. Dit doet u door de preferences te verwijderen. Ga daarvoor naar: C:UsersGebruikers naamAppDataLocalAvidStudio. Maak een kopie van alles wat er in deze map staat. Just to be sure!
Als je de hele map 2.0 verwijdert, reset je Pinnacle Studio compleet, dus ook de database en bibliotheek.
Verwijder je alleen het bestand settings.xml in de map 2.0/settings, dan herstel je alle verwijzingen van Pinnacle Studio maar blijven de collecties en tags in de bibliotheek behouden.
Had je de map van de renderbestanden niet aangepast, dan staan in de map Scratch alle renderbestanden.